GenePath
GenePath is a web-enabled intelligent assistant for the analysis of genetic data and for discovery of genetic networks. You can run GenePath by clicking on the link below. Please note that GenePath will open in a new window, so make sure that your browser does not block this.
>> Run GenePath (opens a new browser window)
GenePath uses abductive inference to elucidate network constraints and logic to derive consistent networks. Typically, it starts with a set of genetic experiments, uses a set of embedded rules (patterns) to infer relations between genes and outcome, and based on these relations constructs a genetic network. Below, for instance, is an example of mutant data (left) and a corresponding genetic network constructed by GenePath (right):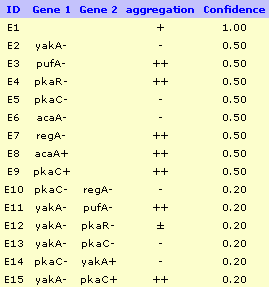 Notice that this is a new, second version of GenePath. It is developed with Microsoft ASP.NET technology, has a completely rebuilt interface, and is much faster than the previous version. Compared to the previous version which we describe in the paper published in Bioinformatics, it includes a number of new features:
expression data analysis
handling confidences assigned to genetic data
derivation of genetic networks with confidences computed for relations in the network
dealing with conflicts
treatment of cycles
experiment planning
enhanced what-if analysis

Read the GenePath guide to learn about GenePath web interface and how to use GenePath to enter, manage and analyze your data and discover genetic networks.